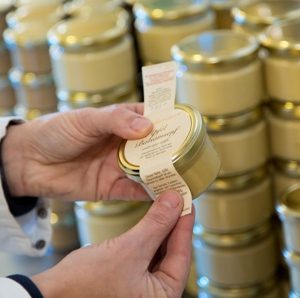 Traditional mustard preparation – our gourmet mustard
The art of making mustard is an old and traditional craft. Many things have been forgotten; recipes, spice mixtures, but also the craft itself. We, Andreas and Martina Fischerauer revived this craft more than 10 years ago with our pattern-protected pumpkin seed mustard. New and old recipes are composed to noble gourmet mustard, which impresses your senses. The fine, creamy consistency and perfect seasoning is achieved in a stone mill. Of course all our mustards are produced with our own fruit vinegars and according to our own recipes. So you always have the uniqueness of our quality in every mustard anew. We invite you to take a virtual walk through the world of the finest mustard varieties.
Our Philosophy
We are committed to enjoyment with all our senses. New and old recipes have been composed into fine gourmet mustard varieties that are guaranteed to impress your senses, smell, taste and feel. The traditional now almost forgotten craft of mustard production is revived with perfection in our vinegar centre. In our small mustard mill we produce our gourmet mustard with much love and care according to traditional and new recipes. The ingredients, such as spices, mustard seeds, etc., come from our own production and from local producers, as it is also important to us to create an awareness for products from Austria and the region. This and the noble taste distinguish us from all other mustard producers.
What is important to us: Free of preservatives
Through the natural ingredients of mustard, mustard preserves itself. But that's not all: It is also important to us that no preservatives are used in any food produced in our company.
free of colouring and flavouring agents
Nature draws with the most beautiful colours. Pastel colours from light cream to a light brown for most mustard varieties. But there is also yellow due to the colour of the turmeric root and a delicate green-brown among the herbs.
Free of thickeners
Mustard seeds have a high swelling capacity and thicken during the grinding process itself. Therefore it is not necessary to add thickener to the mustard.
Free of emulsifiers
The fineness of mustard is achieved by grinding in the stone mill. But mustard is not an emulsion. Therefore a slight leakage of liquid may occur again and again. This can be easily stirred in again. And all this in harmony with nature.
A brief history
The use of mustard seed is an old method of conservation. The use of mustard powder for preservation was already known to our ancestors. It was previously used especially for preserving meat and disinfecting food. Mustard production itself dates back to about the 10th century in France, where a main area for mustard can still be found today.
The mustard plant
Mustard is differentiated according to its colour and origin. Mustard belongs botanically to the group of cruciferous plants. For mustard production, white (yellow, brown) mustard seeds (Sinapis alba) and black mustard seeds (Brassica nigra), as well as Sarepta (Brassica juncea) are usually distinguished. It flowers yellow and needs a moderate, not too humid climate for ripening. The seeds are obtained before the pods burst. In Europe, brown mustard is mainly cultivated. The dry mustard seeds are tasteless and develop their typical spicy taste only after contact with water and vinegar. In yellow mustard the main flavour carrier is the glycoside sinalbin, in black mustard seed the pungent tasting and pungent smelling ally legume oil. More about the mustard plant
The traditional processing and regional ingredients
We use different proportions of yellow and black mustard, depending on the type of mustard. From the mustard seeds with the other ingredients water, vinegar, salt, sugar or honey produced in house and our own spice mixture a mash is produced. Already during the mashing process, the typical mustard taste develops, which is then intensified by the grinding process. After an appropriate mashing time, the raw mustard is ground accordingly between two millstones. The mustard seed absorbs the liquid and the consistency of the mustard is determined. The regional ingredients, the self-produced fruit or wine vinegars as well as the high-quality spices make our mustard unique.
Which varieties are available?
At present we have 131 varieties of mustard in our range, whereby between 30 and 35 varieties are always available. As a highlight of the house and a typical product of the region, pumpkin seed mustard is also our oldest mustard variety. Chilisenf for lovers of hot dishes, Styrian white sausage mustard as an exclusive ingredient for mild meat dishes and light sausages, honey mustard for fish and for lovers of sweet dishes are almost always available. Our pear mustard with dried pears is a local speciality. The current programme with all varieties can be found in the online shop at any time.
Where is our mustard available?
Either visit us at the vinegar centre, order the mustard online or visit one of our resellers. Mahlvorgang noch verstärkt wird. Nach einer angemessenen Maischezeit wird der Rohsenf dann zwischen zwei Mahlsteinen entsprechend vermahlen. Dabei nimmt die Senfsaat die Flüssigkeit auf und die Konsistenz des Senf wird festgelegt. Die regionalen Zutaten, die selbst produzierten Frucht- oder Weinessige sowie die hochwertigen Gewürze machen unseren Senf einzigartig.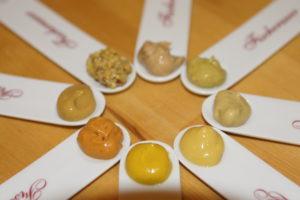 Welche Sorten sind erhältlich?
Derzeit haben wir 131 Sorten Senf im Programm, wobei zwischen 30 und 35 Sorten immer erhältlich sind. Als Highlight des Hauses und typisches Produkt der Region ist der
Kürbiskernsenf
auch unsere älteste Senfsorte. Chilisenf für die Liebhaber von scharfen Speisen, Steirischer Weißwurstsenf als exklusive Zutat für milde Fleischspeisen und helle Würste, Honigsenf für Fisch und für die Liebhaber von süßem sind so gut wie immer erhältlich. Unser Birnensenf mit Dörrbirnen ist eine lokale Besonderheit. Das aktuelle Programm mit allen Sorten können Sie jederzeit im
Online Shop
nachlesen.
Wo ist der Senf erhältlich?
Entweder besuchen Sie uns im
Essigzentrum
, bestellen den Senf
online
oder Sie besuchen einen unserer Wiederverkäufer.