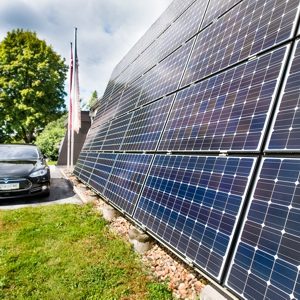 We produce sustainably with a positive CO2 balance.
Sustainability is not just a word for us, but we have been trying to follow our words with actions since 2004. Already since then, we have been working intensively on various systems for energy recovery and aim to avoid CO2 production. Our success, since 2016 we have a positive CO2 balance, i.e. we actually consume CO2 that others produce. The following goals have been realized:
    2004: construction of a rainwater cistern with 20 m³ capacity for cooling the vinegar plants and for service water around the farm. Deep drilling at a depth of 120 m to recool the heat of the vinegar plants against the brine solution. The earth warms up slowly, but surely and by means of heat pump since then the family home is supplied with hot water and heat. Heating of the sales room via underfloor heating by the waste heat of the vinegar plants.
    2011: Construction of the 2nd rainwater cistern with 20m³ content. Creation of 2 brine circuits: Circuit 1 in the ground and circuit 2 directly in the rainwater cistern to constantly produce cold water. These two circuits are connected to a heat pump that produces hot water for the bottling of our vinegars.  At the same time, we manage to use it to heat the entire production facility. The plant does not require any fossil fuels.
    2011: Installation of a 7.2 KW photovoltaic system to produce about 40% of the company's own electricity.
    2012: Installation of the second 7.2 KW photovoltaic system – now we are almost producers of all the electricity needed.
    2016: Conversion of the vehicle fleet to an electric car. From now on we have a positive CO2 balance. We process about 2.8 tons of CO2 – that's better than CO2-neutral. As one of 4 companies from all over Austria: Nominated for the Austrian Climate Protection Award. Link: www.klimaschutzpreis.at
    2018: Construction of an 8 KW photovoltaic system to continue to have enough electricity for all electricity users.
2021: Building a storage sheet only with wood and construction of an 20 KW photovoltaic system.

Many small steps and activities that are implemented in the vinegar center may also enable the next generation a livable environment!

The weather now at the vinegar center:
Wetterstation Fischerauer